3-days  Option-1
Simien mountains
LARGEST NATIONAL PARK.
GREAT RIFT VALLEY
This 3 day Simien Trek is the perfect introduction to the national park. Enough time to hike to all the major viewpoints, see the wildlife, and enjoy the beauty of these highlands.
Drive (2.5 hrs) Gondar- Michibiny (3200 m), hike to Sankaber (3250 m).
From Gondar, we drive to Michibiny with a brief stop at the Simien Mountains National Park headquarters to arrange the permit. We start the trekking easy with a 2-3 hours hike to Sankaber, a good way to acclimatize and get used to the altitude. Overnight camping.
Hike Sankaber to Gich (3600 m).
Today's trek covers a distance of approximately 12 km and takes around 5-6 hours. The hike goes through highland grasslands, heather forests, cultivated fields and follows a spectacular escarpment with dramatic views.
We will encounter the friendly Gelada baboons, foraging in big groups. A stunning viewpoint at the Jinbar Falls is reached after clambering a few rocks. This waterfall plunges several hundred meters down the escarpment down into the abyss.
At the end of the day we pass through the welcoming village of Gich where the local people are happy to prepare a well-deserved coffee. The coffee ceremony is an important social event in Ethiopian culture. The camp for the night is not far from the village. Overnight camping.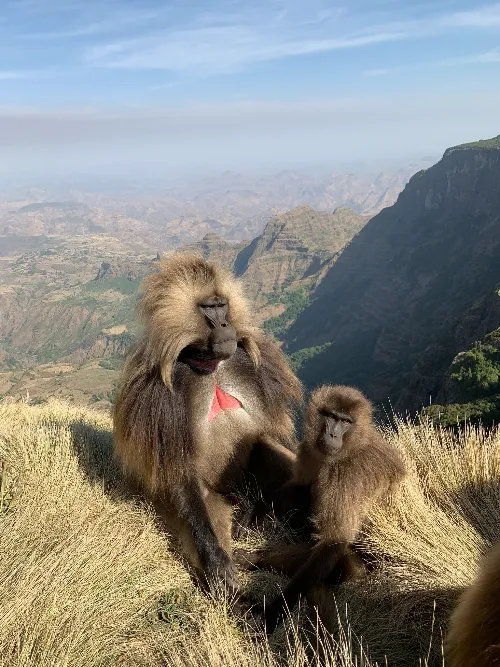 Hike Gich to Ambaras (3620 m). Drive (3.5 hrs) to Gondar.
Today is the most spectacular stage of the trekking, offering stunning views all the way. We hike 5-6 hours, including a short detour to Imet Gogo (3925 m). This summit offers the most exciting views. The giant lobelia is abundant on the Gich plateau. The majestically lammergeyer might soar the skies in front of you and the endemic thick billed raven will be present. In the afternoon we drive back to Gondar.